This is the first part in a two part case. See the second part here.
I have been rambling about blog organization forever now. If you've been putting up with that, thank you. This post focusing on usability and the next focusing on search, I think, will really make it "click" as to how powerful this concept can be.
We'll be doing a quick review of how two experts in personal/professional development space handle organizing their blogs and structuring their category pages.
jamesclear.com vs tim.blog
I'm a big fan of both Tim Ferriss and James Clear. They're both successful best-selling authors, entrepreneurs, and thought leaders on similar subject matter.
But the their sites' content organization and the resulting organic traffic differences is in stark contrast.
Organization and navigability
This comparison ignores some key differences, which I'll discuss at the end.
Tim.blog uses a sidebar category list
Tim.blog is a traditional reverse chronological blogroll with a sidebar. It dumps the latest posts and podcast episodes in order.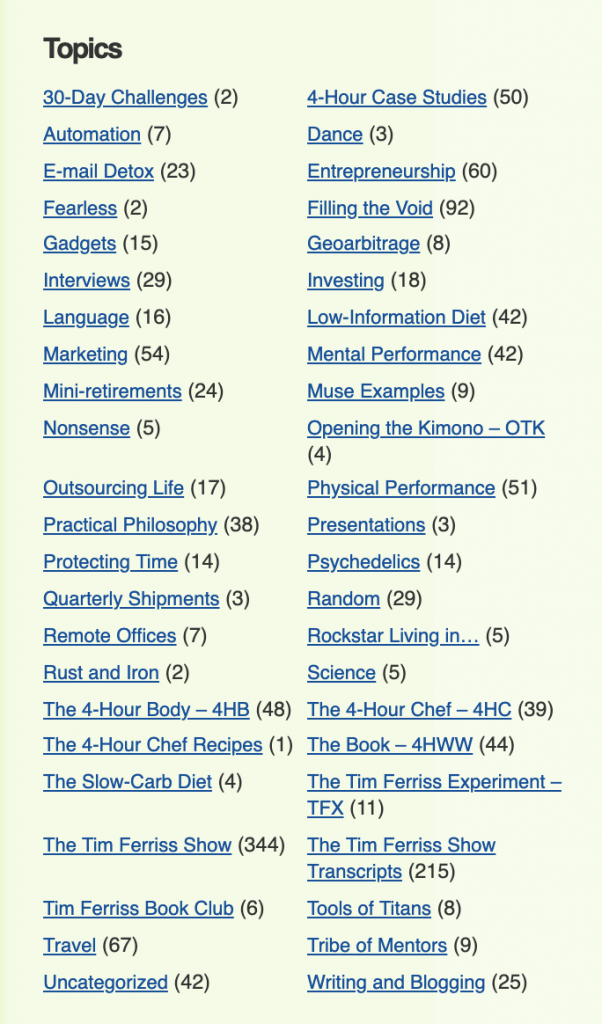 Looking through some of the topics, I'm not sure what some would lead me to if I clicked – eg. "Fearless (2)", "Nonsense (5)", "Random (29)", "Uncategorized (42)" etc..
jamesclear.com/articles uses a no-sidebar curated list
Jamesclear.com is a very minimal personal brand style site. You get there, you see his latest book and an open letter type blurb about the site.
The menu is clean and when you click "Articles" you get a nice intro about the page being a curated collection of his best articles and this: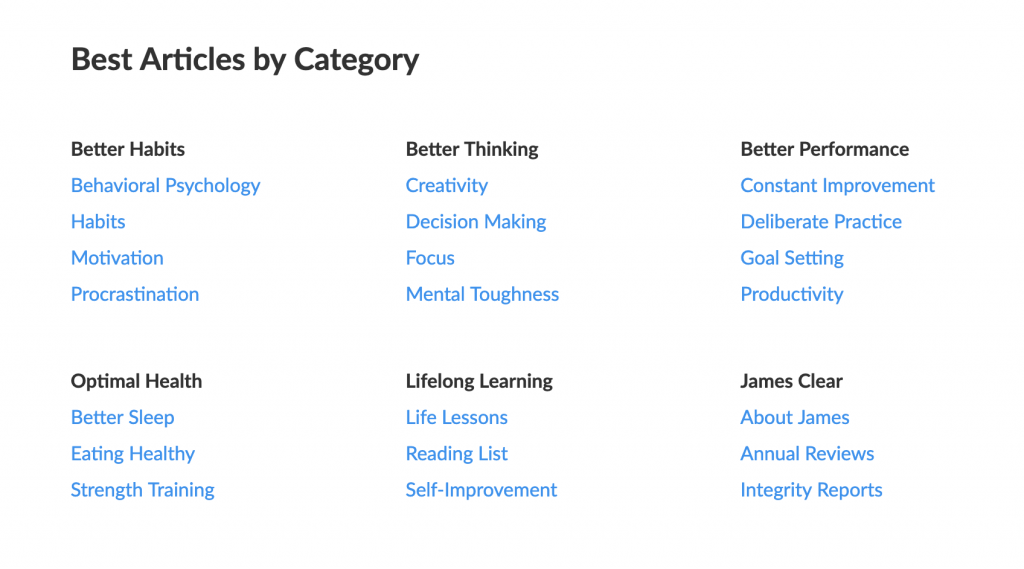 This is incredibly well thought through and organized.
I can see six sections, each with three to four categories. I could get where I wanted to go in an instant and James would know that as a user I self-selected my interests. If he wanted/does track this for signups, it would be a good tag to segment me.
After the sections, the full catalog of articles are listed reverse chronologically (which he states in the intro paragraph so you don't miss it).
This is great for crawlability (he only has a few hundred) and helpful for returning users to see what's new.
The above images are both scaled to 50% their default screenshot size.
Respective "category" pages
Tim.blog uses a traditional category archive list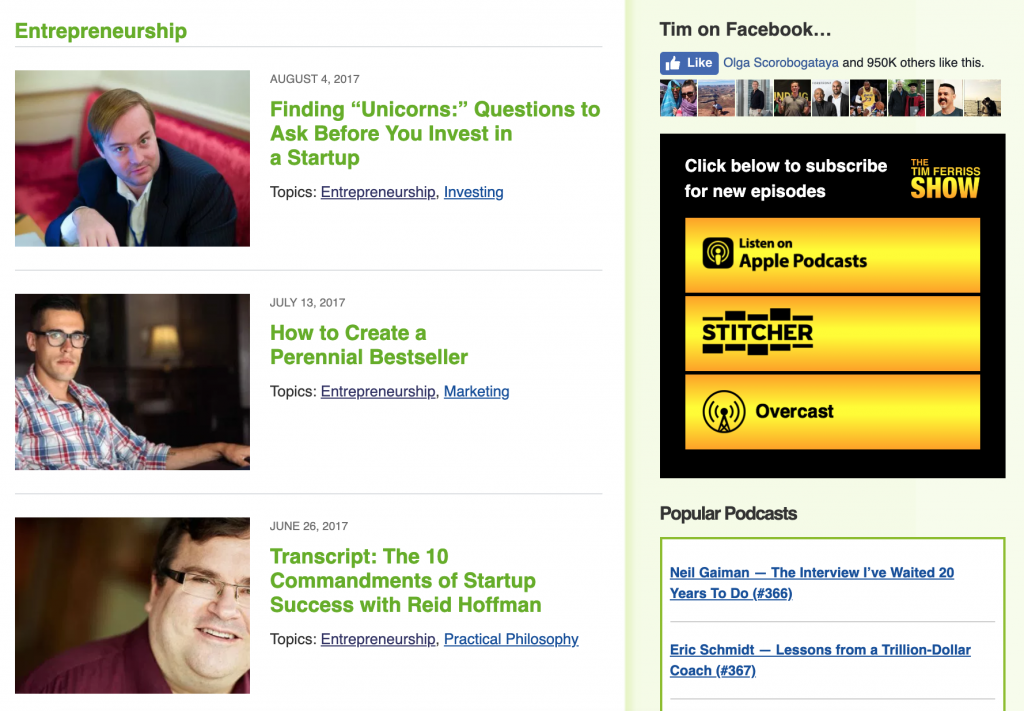 This is pretty standard. I wouldn't be surprised if this was the default category.php file used in WordPress.com VIP (custom) themes. It simply outputs the thumbnail and title of each post reverse chronologically.
Jamesclear.com uses a curated guide format
We could actually spend a lot of time on a few of the category pages. For one, they all have guide style titles:
"Behavioral Psychology: What It Is and How to Use It"
"Grit: A Complete Guide on Being Mentally Tough"
"The Habits Guide: How to Build Good Habits and Break Bad Ones"
"The Decision Making Guide: How to Make Smart Decisions and Avoid Bad Ones"
Let's pick /motivation as our example. Here's the structure:
title: Motivation: The Scientific Guide on How to Get and Stay Motivated
intro paragraphs: blurb about motivation, what this page is, how to use navigate this page
in-page menu with anchor shortcut links ("Johnson Box")
three sections of content on category concepts

inline links to specific pages within the category as appropriate

list of all articles in the category
list of other similar/related categories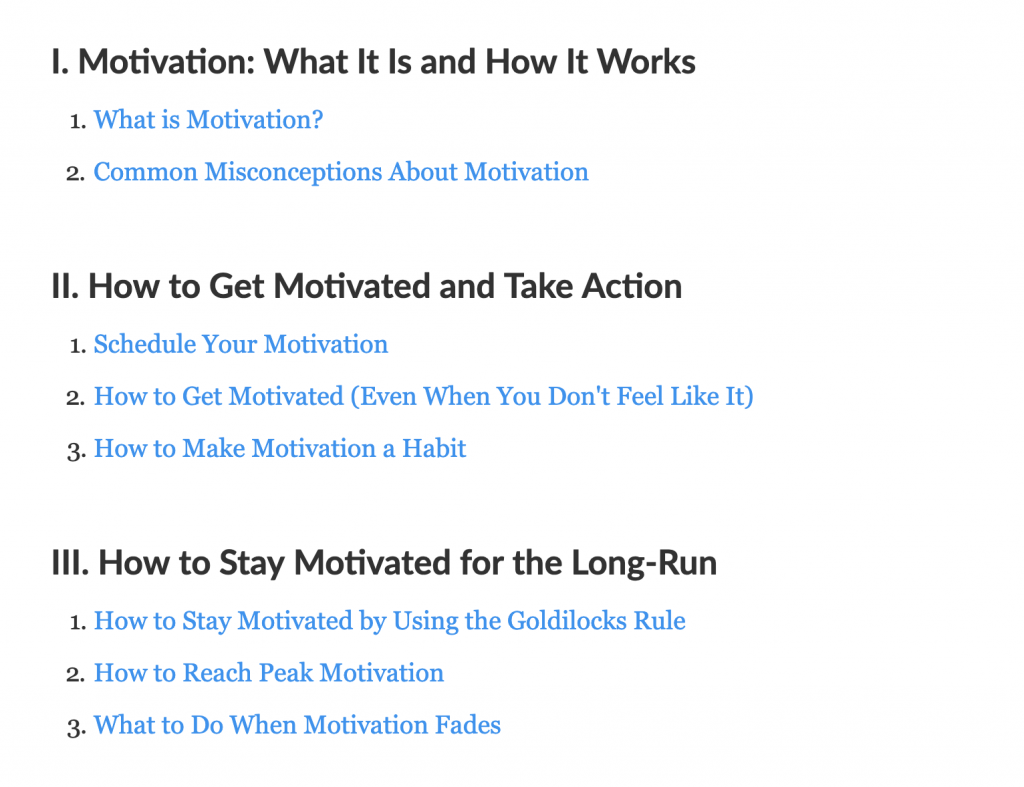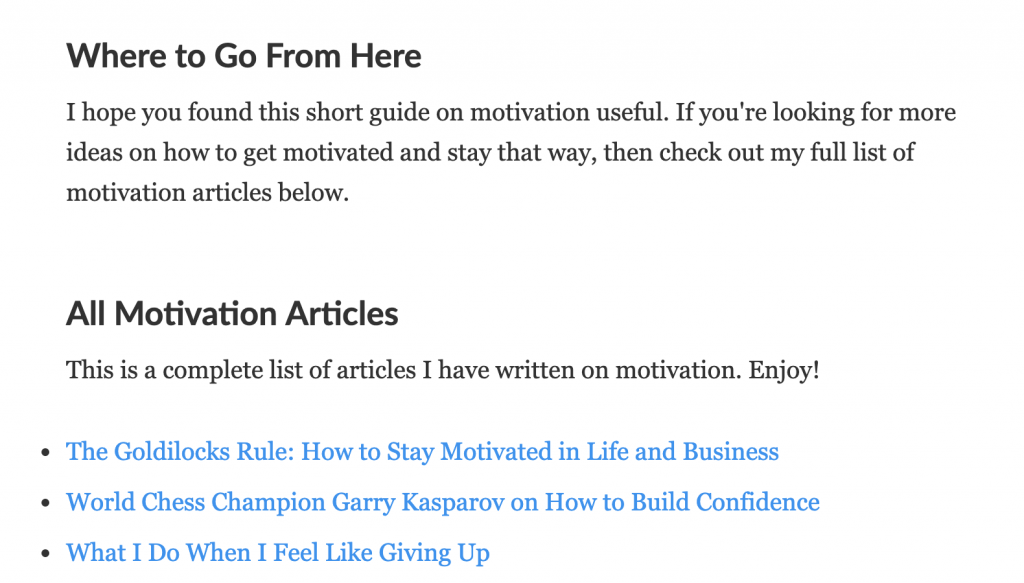 There are three things I want to unpack here:
At each step, he's telling the reader exactly where they are, what to do next, and how they can navigate around.
The category isn't just a checkbox on his blog post. It's a guide to that topic with internal resources listed.
He clearly demonstrates authority on the category at every step by wrangling the category into a framework the user can rely on and linking to authoritative posts on key ideas.
If you have a couple hundred posts or more and care about your search traffic, you'll definitely want to see tomorrow's post where we go over who gets more search traffic and why.
This is the first part in a two part case. See the second part here.