I was going to write about a top tier SEO agency botching their own site migration after being acquired by Perficient. I was very excited to point out their fancy suit with the fly down.
And then I saw Perficient's website. And I got even more excited. These guys seem like the inspiration for the evil tech company in every corny action movie ever.
What does Perficient do?
Who knows. Or I guess their clients know. Or at least clients of their many acquired subsidiaries know what the subsidiaries do? Someone is giving them money, presumably for something.
Their homepage copy is as generic and vague as it gets, "leading digital change," "the leading digital consultancy," and my personal favorite: "a True Digital Consultancy."
It gets even pulpier as they describe their value prop: "When the World Needs Big Thinking and Innovative Ideas, We Have Them."
As a user, I reach for other cues, like navigation and calls to action. More confusion. As a last ditch effort I refocus my eyes. Maybe the images will tell me something about what they do.
Alas, stock photos abound. A person working. Another person working. I scroll back up.
Is the hero background image a watch face? An airplane dashboard widget? A rendering of a camera lens, perhaps. Maybe it's an AI robot's butthole.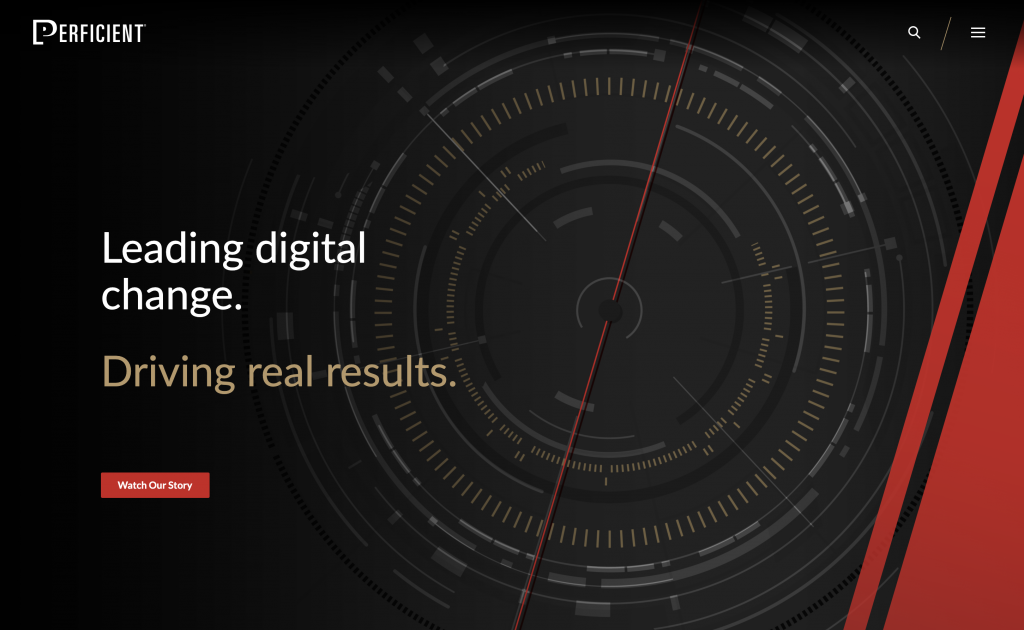 It's fun to pick on a big public company's website. Like spitting on the feet of giants. It makes me feel powerful like the rich boy in shorts from the following quote:
So Small God laughed a hollow laugh, and skipped away cheerfully. Like a rich boy in shorts. He whistled, kicked stones. The source of his brittle elation was the relative smallness of his misfortune…
― Arundhati Roy
The God of Small Things
We all have this Perficient problem.
Or some variation of it. Why can't we just say what we do and mean?
Effective, concise communication, even just one way – one sentence – one paragraph on your site – to get across what you want to get across, is incredibly hard.
Why wasn't this hard when I started my business? Maybe it was and I was just so bad that I didn't even know it yet.
Not really. Here's my first site from circa 2012-2013 in the wayback: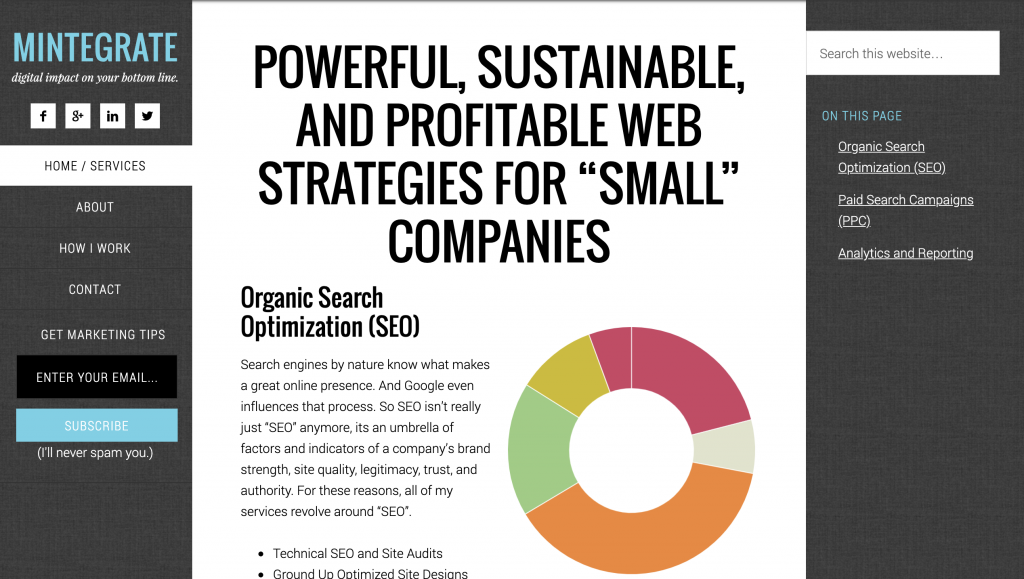 The name "Mintegrate" aside, pretty frickin' good for a noob. You know what I do. I was aware of strategy. It's for "small" companies. Sort of a hat tip to the small but mighty idea. SEO is front and center. And the blurb isn't even half bad.
As I wrote it, I really must have been feeling myself.
Being straightforward is easy for noobs
For noobs, you have that beginner's mind and so, like a carefree child, you just say whatever comes into your mind.
And it works.
I remember my first sales meeting. I just blurted everything I knew about SEO out and said they need more traffic, let me get you more traffic, you don't have to do anything. Gimme your business. I want your business. Do it now. Sign here.
I think I sold and signed more than a year worth of work to three real estate agencies in one day. Where did young, enthusiastic, even though I wasn't good at the work Jim go?
novice-to-intermediate, it all gets harder
Slightly after noob level, we'll call it novice to intermediate, it gets harder as fears crop in. Maybe you don't want to use the wrong terminology. You realize there is more nuance.
You want to not lose business because you're minorly traumatized by having more famines than feasts.
That fear? I'm not convinced it ever goes away.
Like being told you're doing it wrong all the time as a kid and then you're 35 and married patching your brother's roof on your hands and knees and your dad tells you you're not mucking the flashing for the roof line right.
And even though you're past all that not good enough stuff, with one comment, in that moment, you get brought back 20 years. Just a hypothetical, because I couldn't think of a personal example to use for a simile you could also not relate to.
Moving from novice-intermediate to intermediate, the ability to self-describe further devolves
So I changed the name to "Market Leaner" in 2014, and made the tagline and messaging more vague: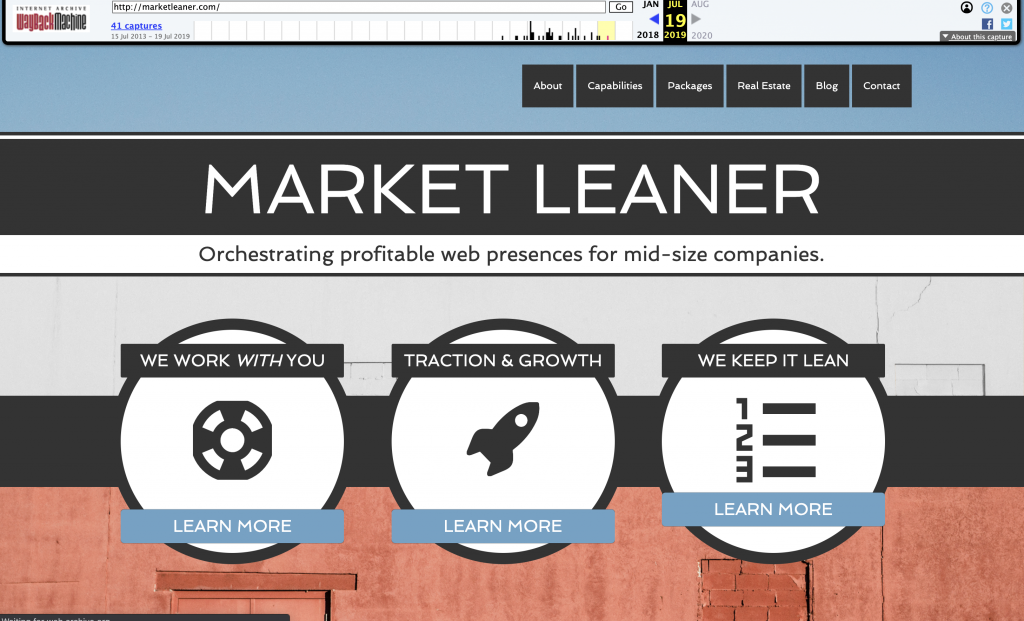 I moved from specific thing for small companies to broader thing for mid-size companies.
And then with Ann it became Inbound Found. "WE HELP BRANDS
SELL MORE ONLINE." Even more vague, but at least it's in all caps. That'll fix it.
And so the services and target groups balloon and balloon. If I am too specific, say I do a thing for a group, and it doesn't work out, the thinking goes, I'll lose other types of work.
As I write this I realize it is like "The Fear" as Philip describes it.
But you get squeezed between that and this other fear.
It's an array of fears, really. It's "The Fears" – plural.
There is that fear we butt up against in aiming to specialize. We realize it's been there all along, driving a ballooning of services.
And then there is the other side. The fear of being 35, of talking to a person and saying "I'm an SEO, a content strategist, a designer, a developer, oh and now I'm adding graph data scientist," and assuming people hear that and think I must be shitty at all those things (instead of just the last two).
It is the fear of not being specialized enough.
Of not being enough of a strategist or consultant or trusted advisor.
Of having (more) gray hair and still being treated like a grunt.
Of being stuck. Basic. A nobody.
From intermediate generalist to specializing for more rapid expertise-ing
And so "Content Audience," following the x for y of I do content strategy for experts with audiences.
Content being a pun on being a contented audience and content in the web content sense. Like the FedEx logo having an arrow in the negative space, you probably had no idea. Nor does it matter.
Such a big complex problem, best to solve it by making two websites, two businesses.
I'm not sure I could have been more vague. But a big effort to re-specialize down is risky. We'll keep Inbound Found as is, just in case.
And then wut?
But then you move beyond all that, right?
The nature of the communication problem is different the more expert you become at a thing for a group.
I am now reconsolidating, because I'm just so sick and tired of being squeezed between the fears that I'm just going to do what I feel like.
I do badass data shit to your mess of content so you don't die without a legacy because no one could find what you actually wanted to give the world you cared about. Because your work is important and we so desperately need people to be more effective than big companies at important work.
There. I frickin' said it, plain.
And now my job is to reconsolidate two sites, two directions, and it will inevitably involve re-increasing the list of services because more are required for big hairy problems like yours.
Now, it's your turn.
Why, as a much more seasoned expert, do you have trouble pinning down what you want to say to whoe ven though you clearly know your shit and who you are talking to?
Working on that. More tomorrow.