-or- how not to get massive traffic and what to do instead
The idea that SEO is something you can "fix" is a bit of a myth. I describe the three types of SEO work and a brief exercise you can do with no paid tools to significantly improve traffic for key pages.
---
I'm designing a service based on ongoing SEO content strategy recommendations. For beta sites, it will be grandfathered in at $500/month. If interested, hit reply and let's chat.
---
When you look up from a trees view to take a forest view, you'll inevitably see lots of things you could do for your search presence.
Typically these fall into buckets of "quick fixes," "ongoing maintenance," and "solutions."
I see this when I look around our house. There's a toilet paper dispenser someone used as a support railing a few years ago… I still haven't gotten around to (sorry, Ann!).
When (if) I spackle and re-anchor it'll be slightly more convenient to reach for, but the net benefit will be nominal. It won't suddenly be the best toilet paper dispenser in the world.
But if I do ALL those little quick fixes, the value compounds. Best to pay a handyman, here.
Then there are clear maintenance things. I should refinish the hardwood floors, recoat the roof. Important, even vital, but without immediate gratification.
And finally there are real problems to solve for. Things that would make an immediate and meaningful impact – like bringing more light into our South Philly row.
This requires creativity, research, planning, trade-off considerations, e.g do we get a skylight? a door with a big window? French doors out back?
SEO involves all these things: fixes, maintenance, solutions.
Indexability issues? You need to get that fixed quick to get out the starting gate. Have a podcast? QA maintenance the episodes with summary/show notes, transcripts, discussion and related episode links. Doing lots of these things can provide a consistent lift but it's not a solution, it's just a best practice a lot of other sites do.
The big problems, if solved, would change your business. Things like getting real traffic to key podcast pages.
Solving the big problems is the best part of SEO.
Purely a thought exercise – let's say Google is right about the order they serve results, that they figured it out – they now know how to serve users the best results given user intent and that when you rank 10th, it's because you deserve to rank 10th.
You are the 10th place expert on a thing.
How do you become the 1st place expert?
We've just flipped the script. We've attached generating real traffic to pages to making those pages the best at what they were intended to do.
Let's walk through a more grounded opportunity hunting exercise: on what pages would moving from an average 10th position for a cluster of relevant terms to an average of 1st to 3rd position mean a real impact on traffic.
You solve for it with creativity, research, know-how, and planning given trade-off considerations.
First, identify those 10th position pages. Where am I seeing comparatively high impressions but low click-throughs on relevant terms in Google Search Console?
Go to Google Search Console > Performance > Click "Impressions" to sort descending by impressions. Then click the "Pages" tab.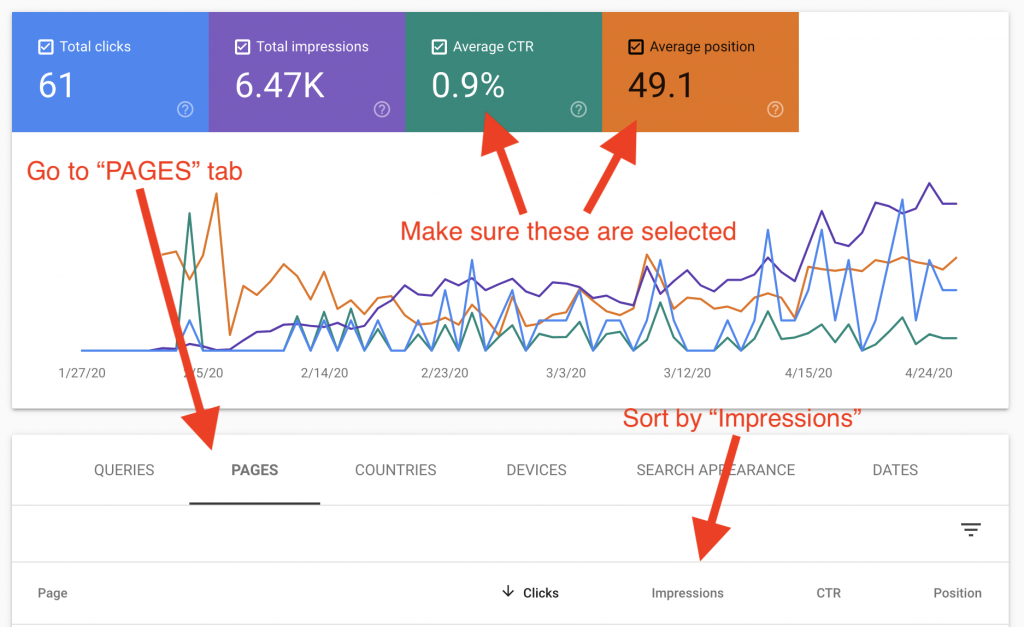 Look for pages with a CTR of 0.1% to 2% with at least a few clicks and 100x higher impressions. Write the top five you see down.
Click on one of those identified pages, this will create a filter tag at the top that limits data to only that page. Then click "QUERIES." Now you should see a list of queries for that page sorted by impressions.
Here is where I like to wash myself of thinking of keywords as keywords and try to understand the mindset of users when they are searching a thing.
They don't know what they don't know. Their search intent reveals their current thinking and related bias. And so it's your responsibility to help them.
With that in mind, what do you see? Make notes.
Rinse, repeat for the other four pages: Go back to "PAGES" tab, remove the page filter, click on another high possible opportunity page.
Of that short list of pages, where you see relevant opportunity, congruent terms, and high impressions with low traffic.
I'm going to say something a lot of good SEOs would disagree with now: if it feels like a stretch to solve for additional search intent on a page you are looking at, that's not an opportunity – it's a distraction.
As an expert, you have limited opportunities to punch through the noise. You decide now, where does it make the most sense to focus to have the best piece of content that solves for that intent?
With our "pretend Google is right" exercise, improving that page becomes less a function of dancing for G and more about bridging a gap between what the type of people you want to help think they need and how you can be the best at solving for connecting those dots.