In the mid 1800s Southeastern Chinese migrant workers came over in droves to work on the Transcontinental Railroad. They brought a variety of Eastern medicines over, including snake oil.
After a long day of back-breaking railroad labor, snake oil provided some much needed relief in a pre-Aspirin world.
That snake oil could heal pain was such a wild, sticky, portable idea, so much so that Americans far and wide quickly learned about snake oil's efficacy in reducing inflammation. I imagine it was as close to viral as an idea could go at the time.
As a result many saw an opportunity to profit from snake oil's growing reputation and mystery.
With high demand and low access to Chinese water snake oil (the good stuff), those opportunists began selling the much more readily available, but significantly less effective, rattlesnake oil.
As an aside, both have the acids for treatment. But the active ingredient that reduces inflammation when topically applied is almost 3x more potent in Chinese water snake oil than rattlesnake oil, meaning the latter falls below a therapeutic threshold.
According to his 1989 analysis published in the Western Journal of Medicine, Chinese water snake oil contains 20 percent eicosapentaenoic acid (EPA), one of the two types of omega-3 fatty acids most readily used by our bodies. In comparison, the rattlesnakes had only 8.5 percent EPA.

Western Journal of Medicine findings via Scientific American
Between the low supply and unbelievably believable idea that snake oil could heal injuries, illnesses, and pain, a racket was born.
The Rattlesnake King's Personal Brand
Leveraging Americans' fascination with cowboys and Indians, a brilliant marketer by the name of Clark Stanley made himself known as the Rattle Snake King by selling his cornerstone product, Snake Oil Liniment, in one of the great brand stories in American history.
The story goes that Mr. Stanley was born around the time of the Civil War in Texas. As a young cowboy, he learned of a powerful elixir while living with the Hopi Indians. The Hopi medicine man took a liking to him because of his "fancy shooting."
He showed Stanley a magical potion which not only cured the "hundreds" of venomous snake bites Stanley received (presumably from collecting snake oil), but pretty much any form of pain and its cause.
Stanley bottled up the special formula. It looked something like this: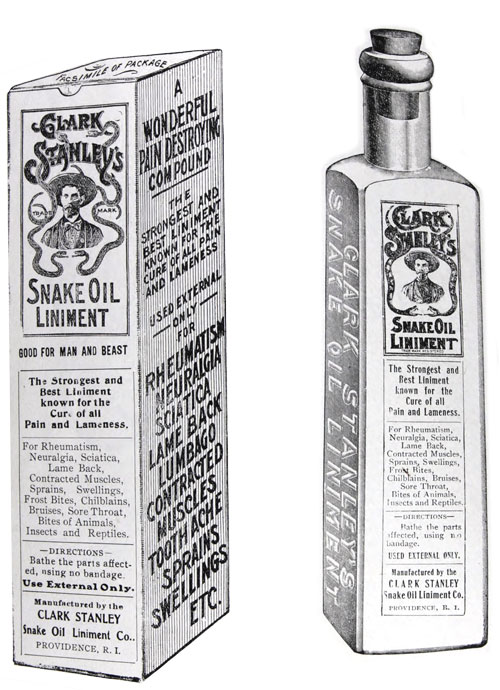 It was even marketed at the largest gathering of Americans in history, the 1893 World's Fair.
With his cowboy boots and handlebar mustache, he would violently squeeze out the snake oil, wowing never-ending swaths of crowds.
And so it became a household name carried by drug stores far and wide.
That is, until the Bureau of Chemistry (now FDA) found out it was mostly mineral oil.
And that's how "Snake Oil" became synonymous with fraud and deceit. And the casualty in all of this? Chinese water snake oil, the stuff that works.
This pattern can be seen all the time:
something new works and the message spreads
no one really understands it because it's new
whisper down the lane and sticky anecdotes contribute to the exaggerated claims
demand exceeds supply creating a vacuum of opportunity
opportunists enter the market in droves
whoever makes the biggest claims and markets the thing most effectively benefits at scale for a period
as more and more opportunists flood in, the ability to deliver on those claims diminishes
we get further from the original value as more and more people are swindled
that original value gets lost
Why SEO got a bad wrap
Flash forward a century to the early 2000's. Demand and initial value to cost ratio of SEO as an approach to online marketing allowed a lot of SEOs to shortcut their way to ranking big time queries.
It was new, exciting, and worked wonders. Sound familiar?
Then, in a series of search algorithm changes, this became "significantly harder," and just like when snake oil demand outpaced supply, people started taking advantage.
A lot of customers got burned once the need for good SEO in the marketplace severely outpaced the experience of marketers focused on SEO skills, tarnishing the industry.
The new problem with SEO
The new problem is more existential.
And it's not really new. Google has been strategically dismantling the industries' ability to rank and get the resulting traffic one-by-one for over a decade.
But the more recent push of Google SERP features (those FAQs boxes, knowledge panels, image results, Youtube cards, etc.,) resulting in a growing number of zero-click queries means you can rank first and then it's crickets on your traffic.
The only way this is different than what happened when Facebook's algorithm updates (suppressing brands from showing in users' newsfeeds) is that that change happened almost over night. This is coming up on being a decades long change.
The more profitable (or easy) a topic is for Google to take over, the more likely SEO will no longer be worthwhile to go after.
This is a hard truth to accept.
I'm also very uninspired by those I typically look to for advice and thought leadership on what to do next, which is essentially, "accept it and play ball, or don't."
And I don't really have a great answer either.
The only solace I do take is in knowing that:
Search still provides the highest stable ROI of any digital marketing activity. I say stable because tactics come along like influencer marketing or chatbots that suddenly get really high returns for short periods of time under the right conditions.
It still results in more traffic to websites than any other medium. This is just a fact. As long as people look for things, they'll look for things.
Google hopefully won't be around forever. We're happy to put up with monopolies when they result in lots of convenience and comforts for us as consumers, but not so much when they start taking food off your table.
Even if Google siphons off traffic, they can't solve the big problems that keep people up at night. As a subject matter expert catering to your audience, you can.
No medium should be your be all and end all. The nature of search is such that the things that benefit search visibility benefit other dimensions of your marketing. You do real marketing things and those things are reflected in your link profile. You network with other experts and they send you referral traffic. The secondary benefits of search should be treated like primary benefits.
That's all I have for now!