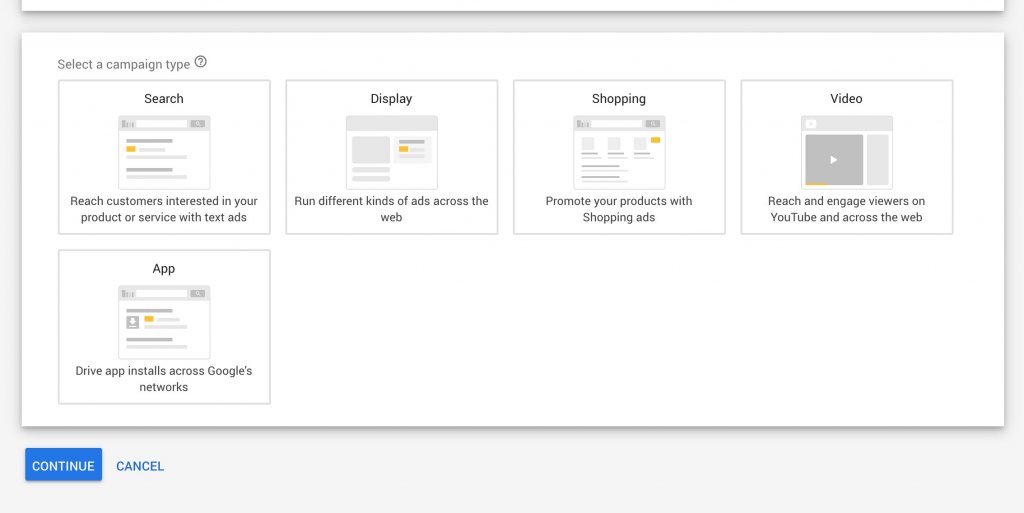 When you get to the next block, Google Ads will by default have
"Search Network" and "Display Network" selected.
Leave those options that way if you want to at best have no idea what's happening or at worst, light your money on fire and totally wreck your test campaign.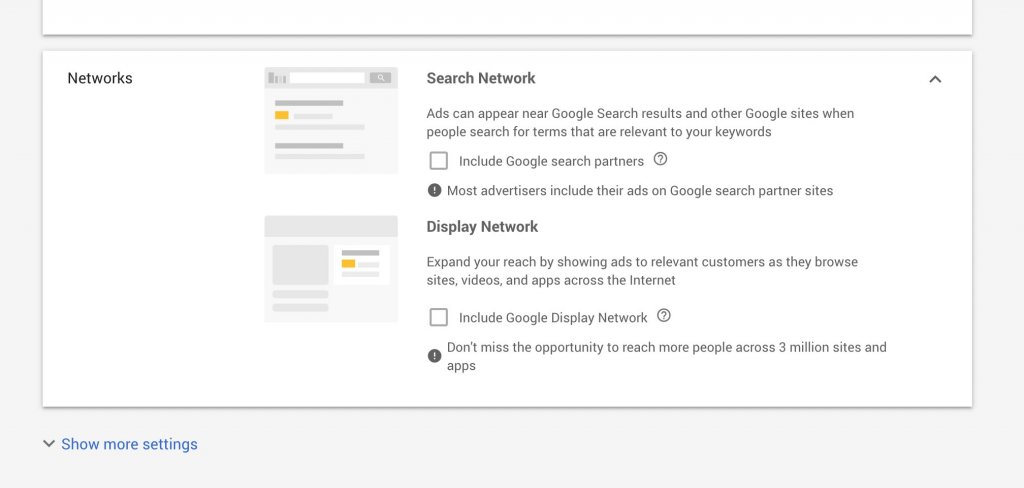 More on these options:
"Search Network"
Don't ever select this. BUT its selected by default so make sure you deselect it.
In my mind this is a "be everywhere," "loss leader," or "we have too much funding as a startup" setting.
If you want to "test" it, then run a comparison campaign against just traditional Google search. With this setting, check out where your ads can randomly be served by Google Ads placement algo(s):
… hundreds of non-Google websites, as well as YouTube and other Google sites
… beside, above, or below search results on Google Play, Google Shopping, Google Images, and Google Maps – including the Maps app.
… with search results on websites of Google search partners or as part of a related search or link unit.
For text ads, search partners include hundreds of non-Google websites, as well as Google Video and other Google sites
… on site directory pages, or on other pages related to a person's search.
Above bullets via Google Ads Help About the Google Search Network and Search Partners Definition pages
"Display Network"
Again, don't ever select this. Total rookie mistake. Make sure it is deselected.
"The Google Display Network is a collection of over 2 million sites, videos, and apps.

via Google Ads interface
They continue to say that they'll only serve ads if they are "predicted to be effective" or when you aren't using all your budget on search but that is total hogwash.
Diving a little deeper into that:
Google in 2014 claimed that "Search Network with Display Select" (what these options were previously called) campaigns resulted in a 35% in the click through rate of those ads and 35% decrease in click costs," based on their research. The nerd continues to say "all we're seeing is a better return for you and your business."
What?
That's not a good thing!
Cheaper is not better!
More engagement (higher click through rates) is not better!
Only improved conversions is better!
Would you rather your ad served on exactly the phrase someone was searching in Google that moment, or at some other time, on some other unknown website, as a text ad?
Of course the cost should be lower. When you do display only your cost per click is 23% of a search ad cost per click. (via Wordstream 2018 benchmark data)
You can always test these options later
You can always test a "with Search Network" version of your campaign by duplicating it and changing that configuration.
You can also always test a "Display Network" campaign. But it's so different from Search Ads that you want to always keep it separate.