You can trash six years of branding with a text message right now.
Six years ago (I checked) I signed up for a newsletter from an org selling CRM + website + marketing tooling for Realtors. Here's the text I got:
Hey Jim, it's (FIRST NAME) at Real Geeks checking in. Do you have tools to stay connected with your clients during this time?
This behavior is so commonplace, it's becoming a meme: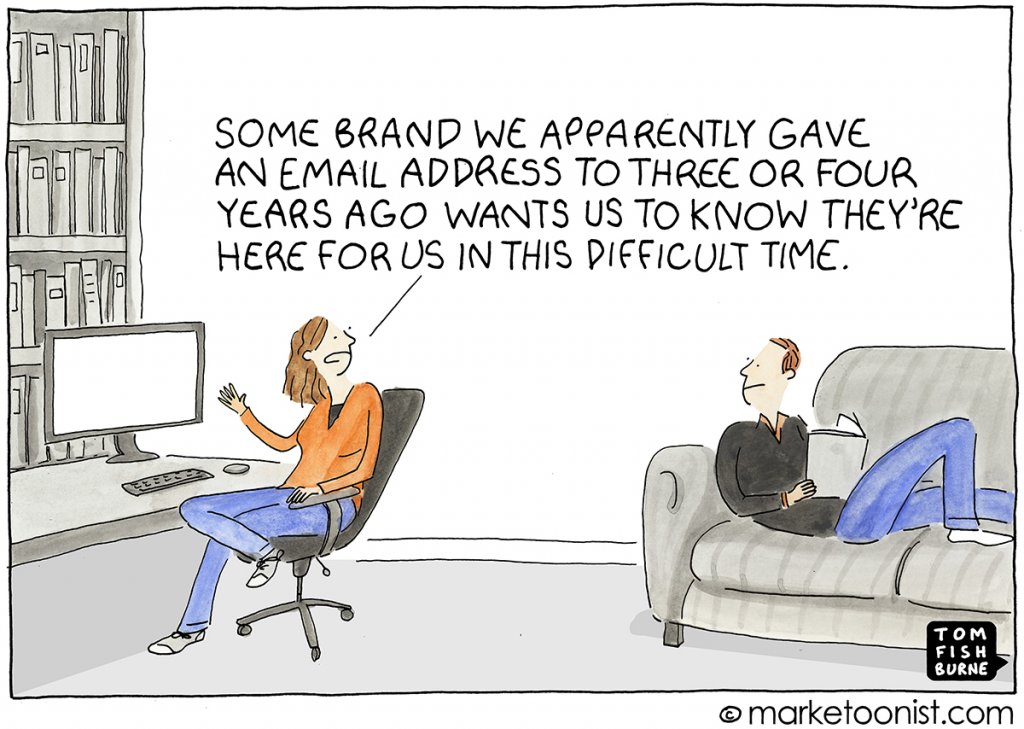 Content relevance right now requires serious needs awareness and anticipation of how quickly that's changing, coupled with being a real person.
We're all being forced to be more real anyway. Might as well embrace it.
I read a guide on how to do content marketing right now. It said try to make content that is relevant but also evergreen. What?
There is no content that is both relevant and evergreen. You either make evergreen content, fulfill a need that existed before all this OR you make your content more conversational and relevant.
There is no content that is both.
Context-driven content is a conversation right now
Out of curiosity I responded to the text spam to see what their headspace was. Apparently, they took over East Coast (maybe after firing people) and are restructuring after being acquired by Fidelity (maybe being forced to text spam people?)
This made me feel better about the original text. I understood where they were coming from: pressure, uncertainty, restructuring.
Transparency goes a long way to your intentions not being misunderstood.
Let's say you need to sell right now, you financially need to launch a course you've been working on. Saying why you are launching right now will likely increase conversions.
It's not a neediness thing, it's a "look, I'm not sure what you need, but I need to move forward, I need to feed my team. I don't want to assume this isn't a good time for you to hunker down and dive deeply into this course I've spent years making for you. If you're feeling financial hardship right now, hit reply and let's talk about it."
See? Easy. Be a person.
You can also get a sense of the range of context your audience is experiencing pretty easily, I think. People are being more open than ever. You will come out the other side understanding your audience much more deeply shifting energy to that end.
Don't assume you know your audience's context because you knew it last week
Your audience might be on an array of different timelines from you and each other.
It's my mom's birthday this weekend (happy bday, ma). Our extended family and many friends made video clips for her – song parodies, well wishes, poems, jokes. My sister who organized it had to edit down 40 minutes of footage.
We then all watched it together on Zoom.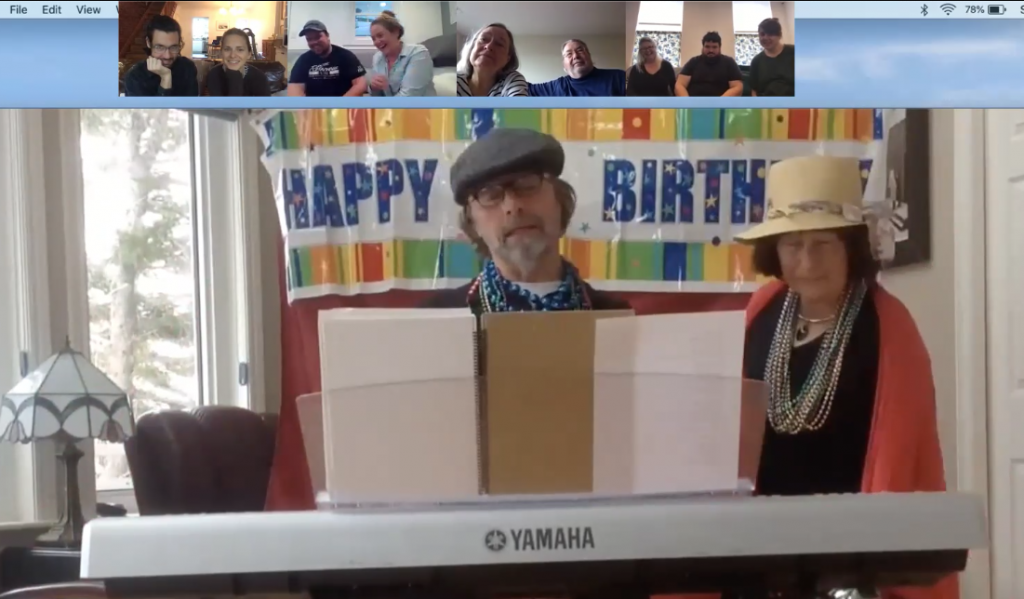 It was fun and silly and… overwhelmingly moving. And I couldn't help but think, I'm scared to death for all these people I love and miss. I hadn't felt that before that moment.
And compared to many, if not most, we have it good. Someone I look up to in marketing world just tested positive. A client told us their best friend's husband just died of COVID-19.
"We're here for you during this time"
This might have been effective two weeks ago. I don't know. Now every brand is flooding inboxes with this message so it's officially trite.
Things are so up and down, with different groups getting hit harder financially than others, in different waves, in different areas.
What they're living through right now dictates what is relevant. There is no "right" context for your content besides that.
You need to know what relevance means. And you can and should be offering more interaction. You increase how real or meaningful that interaction through transparency… by being real.
If your content isn't relevant or a reprieve from reality, if it's "evergreen," tuck it away, publish it quietly, or be clear about why you're going evergreen right now.