The more (unorganized) content an expert's website has, the less search traffic it is likely to get.
Unorganized content leads to inefficiency surfacing content for users on your site as well as their navigational tool of choice: Google.
The single most impactful thing an expert with lots of content serving an audience can do to benefit traffic, subscriptions, and sales is organizing their site content for clarity, relevance, and ease of navigation. This includes cutting and consolidating large swaths of content.
Let's look at three examples, one good and two bad.
To find examples of personal brands that have done a good job of organizing and refining their content over time is… hard. Outside of major personal brands, no one does this!
The good example
The best example I have, which I've pointed multiple times, is to jamesclear.com which sees massive amounts of fat head and long tail rankings for keyword phrases that match perfectly to topics in which he's focused.
Aside: Here is a website comparison reviewing his site's very simple information architecture vs an unorganized blog of a bigger brand name (at least at the time): Category Pages vs Curated Guides: A Case Study.
I've mentioned before how meticulously organized his information architecture and internal linking is handled, you can see this on his Articles page.
It wasn't always this way. The wayback shows this timeline of changes:
before May 2016 reverse chronological /blog exists with some popular articles listed at the top
early May 2016, a /best-articles page is found in the Wayback and added to top level nav
mid August 2016 both /blog and /best-articles pages are redirected to an /articles page with the newly organized top level sections and navigational guides linked with archive of posts listed below
Every few months or so, edits are made for clarity, typically less guides linked, but more robust guides.
As new articles are added consistently over time, the overall number of articles stays constant or goes down over time
He stripped out content, consolidated and organized what would be top level categories into headings for more detailed supplemental navigational guide.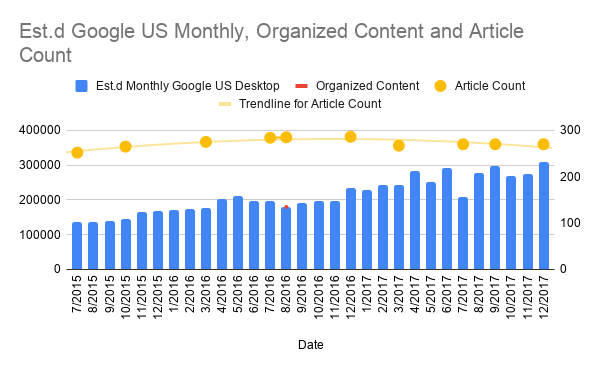 When he organized his content (red dot above, green square below), you don't see a massive explosion in sites linking to his site or Google traffic. But instead we see across the board ongoing improvement: a continued steady increase of sites linking and estimated traffic based on ranking improvements going up at a slightly faster rate than it was previously.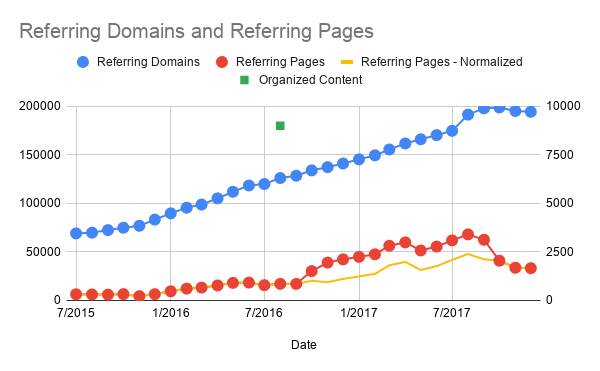 Jamesclear.com is being rewarded handsomely in search with estimated Google US Desktop traffic in SEMRush at about 630,000 visits per month on 200 pages of content. There's other benefits we can't see, like ranking relevance.
The takeaway is simple though – it likely didn't take all that long to do, and the effects have been massive. As far as I can tell, besides ongoing pruning and organizing his site, he has made little to no changes over the years besides that major switch from a default blog to a carefully curated series of navigational guides.
Next we'll contrast that with two examples of top tier expert's sites with lots of unorganized content.