There are a lot of opinions out there about discounting. You have the camp that believes you should never discount. A lot of these people have even "tested" discounting and found it doesn't work. And then you have people that have done lots of discounting, and swear by it as the single best way to predictably mobilize an audience around a marketing campaign.
On the "should you discount?" debate, I'm mostly in the camp that discounting info products damages your brand and profit long-term, and that the amount of discounting you do is roughly proportional to the amount of harm it will cause. But this is at best a hypothesis and the next few paragraphs explain my current opinion.
I've always assumed, and told clients, that you shouldn't do it unless you have a darn good (existential) reason. Like you've done it for so long you are now dependent upon it to a point of existential threat if you stop. Sort of like J.C. Penny or the alcoholic who could die of DTs if they stopped cold turkey.
At the very least, you certainly shouldn't start out by discounting.
In fact, pretty much any argument I've heard in favor of discounting or advice on how to discount without damaging your products and brand boil down to just… doing less discounting:
do discounts/sales less so you aren't training people to expect or wait for discounts in the future
start at a higher price so you can discount it later
run scarcity based discounts with a time based expiration or small number of first come first serve users
By curbing the amount of discounting, it feels more okay, like the moderation approach is somehow balanced advice.
Sounds nice. But it's a little like being a moderate smoker, which "carr(ies) nearly the same risk for cardiovascular disease as daily smoking." That meta-analysis also shows that pretty much all the other increased risks associated with daily smoking are found in light smokers, just less intensely (e.g. instead of a 13X increase in likelihood for lung cancer as a woman, you're only 5X'ing it.)
Makes sense. If you do something bad for you (like discounting) in moderation, at best, it's still moderately bad for you.
Long-term effects of discounting are complex and hard to measure
I do feel like there is evidence for discounting as an approach and don't want to be completely close-minded to the idea of it.
The most interesting question in the discount debate is complicated. To demonstrate, we can use the exposure-response relationship model.
Exposure-response curves are used to describe, "the magnitude of the response of an organism, as a function of exposure (or doses) to a stimulus or stressor after a certain exposure time (Wikipedia).
A wiki example curve looks like this: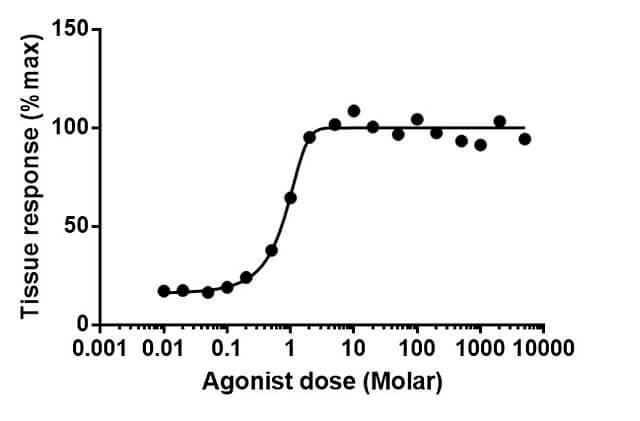 We tend to think about correlation as linear (that the more discount, the more bad.) The curve above shows how much of a thing has how much of an effect.
Is it like E. Coli? A little bit never hurt anyone but a lot gets you nasty food poisoning? Or is it like cigarettes, where the amount of smoking is proportionally bad for you?
Looking at the "exposure-response relationship" model in the case of discounting, is it relatively linear (like in the case of smoking)? Or is a little discounting potentially a good thing where "too much" makes it a bad thing?
The higher stake question here is, "Will using a discount-based promotion strategy make you more, the same, or less money (over time)?"
If there is an optimal amount of discounting you can do before the amount of harm you do to your brand (and future sales) outweighs the benefit, how do we find it? Is it relatively stable across consumer relationships? yada yada.
Let's take a step back and define "discounting" for our purposes.
Discounting: a reduction made from a regular or list price

("discount" 1. b., Merriam-Webster)
For our purposes, starting at a low price with a promise of increasing price after a certain period of time isn't technically discounting. Looking at an organization that has been discounting for a long time is not relevant here either.
We're talking about info products so we're not including bundling, volume discounts, free shipping as "vehicles" for effective discounting. We're talking about "50% off for the July 4th weekend only!!! For only the first 100 people!!! Act now!" type discounts.
That said, I'm reviewing some of the literature around discounting and will report back soon!