Some more thoughts on email segmentation for tags vs custom fields debate:
Email marketing software is opinionated (or not)
Most email marketing software is "opinionated" in the sense that almost all of the popular ones make it easy to segment your list by using tag triggers.
The term "opinionated" in software means that an app is designed with the belief that some job should be done a certain way. Non-opinionated software is more flexible. It says, "look, there are a lot of ways to do this, you choose what's best for you."
Email software that's good for beginners often starts with an opinion about segmentation, or at least an easy way, typically with tags, because everyone gets it.
Demographic data? Tag as "male," from "Philly."
Behavioral data? Tag as interested in "SEO," and "past customer."
As you're getting started, you at least know one way to get the job done.
Tags are good for beginners
They're also good for advanced users but we'll get into that next.
I can tag someone as "millennial", "wealthy", "techie", and even if you have no experience growing a list, you can see how if you want to write an email for the wealthy millennial tech-savvy, that you can choose those three tags and boom, have a highly targeted email campaign or promotion.
Tags are not great for "linear personalization"
Linear personalization is like linear thinking.
It assumes that people are one way. The world is full of cheap people and generous people. Beginners and intermediates. People that like "SEO" and people that like "design."
If we assume that people are one way, then we can personalize our marketing by putting them into buckets, or funnels based on which way we think they are. This is how most audience-first businesses start a process of segmenting for personalization.
If a user is tagged as multiple (conflicting) things, and you're trying to personalize marketing based on a bucket you want to fit them in, it gets messy. This was Brennan Dunn's point yesterday.
If you use tagging someone for a stage or status where they can be only one thing, ya sure, don't tag them as the active thing without removing the old thing.
But people are rarely one dimensional.
From putting people in boxes to… not putting people in boxes
As a beginner, using tags in email for segmenting is hard to scale for the reasons listed yesterday, eg. if else statements become problematic, but once you reach a level of complexity, those tags actually become more useful than what's being referred to here as custom fields with an update field method.
Why?
And this is so cool – because segmentation becomes less about putting people into concrete buckets and much more nuanced.
I'm all about beating the drum of keeping segmentation and personalization simple. Especially as you're getting started. You have to make some decisions.
Beginners get beginner content and then they are sold a beginner course.
Intermediates get more advanced content and then they are sold a coaching product.
I get it and I know this works for people.
Growth becomes a liability if you're painting yourself into a corner. And adding complexity before you're ready, or even need to, quickly adds up to segmentation debt.
The new way, ready or not
I'm worried that this will sound like some Cambridge Analytica crap, but hear me out.
Data context matters. If someone is tagged beginner two years ago, and that tag never gets updated, they are likely either 1. not a beginner anymore or 2. not interested anymore. So the lineage of their data stream matters. When they were tagged as "beginner" matters much more than their current status in your database.
That's why tags are better than custom fields almost every time.
They leave breadcrumbs. Those breadcrumbs paint a better picture than custom fields every time.
Brennan Dunn used an example of tagging versus using a custom field to label a user as someone is starting a business and wants to scale a business, by allowing them to self-select clicking a link trigger.
But that's not how life is. You don't get to say, "no, you must pick only one, sir!" That's not how it works.
If your approach to segmentation + personalization is distinct buckets + linear funnels, then custom fields are totally fine.
But that data no longer exists in an easily accessible way with the update field method that overwrites their status without recording previous status log.
But it does exist with tags with timestamps.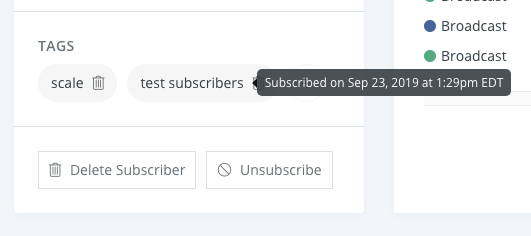 That timeline is what tells the story. It helps create breadcrumbs that paint the picture of the user's journey.
But if you recognize that we're all on journeys, that those journeys are not linear, that people are not one thing, then you let them decide.
You ask people what they're interested in.
Maybe they're starting a business and scaling another business.
Or maybe they started one and now they're scaling one.
Or maybe they're an overachiever and they want both beginner and intermediate content.
If they were tagged beginner with a timestamp of last year, and intermediate with a timestamp of this year, isn't that much more valuable than a custom field that was updated at an unknown time from beginner to intermediate?
If they're tagged with both, isn't it pretty clear that you could safely segment someone as intermediate?
Then, without realizing it, you're collecting the data needed to build a knowledge graph.
More on building a knowledge graph later.