-Or- how not to lose your shirt before you get started with your info product test campaign
Disclaimer: Of course, with all settings, there are caveats and targeting options should reflect the goal of the campaign. Like most things it's complex and in a perfect world we would "test everything." The recommended configuration is simply for validating an info product through a search ads campaign.
Not lighting money on fire
I have argued with more than a few paid search managers about things like:
whether to allow display network targeting into your search ads
whether to allow people "who show interest in" the country you are targeting to see your ads
whether enhanced CPC or Target CPA results in better outcomes than manual bidding
Usually when I have these debates its with people who are managing so much ad spend they can literally "do it all" and then refine away over the course of 6 to 12 months.
We don't have that luxury. We have about $1k to play with.
If your idea is not worth spending $1k to test, then you need a better idea.
You can always play with other campaign settings later
In order to get to testing this campaign with X targeting settings to that campaign with Y targeting settings, we need a baseline with all extraneous variables minimized so that we can recreate success and minimize noise.
Step 1: Save $100+ out the gate
Go on Google and look for Google Ads discount codes. This is an evergreen-ish page where Google offers you $100 in ad spend when you spend $50.
Step 2: Keep your campaign setup targeting options tight
If you learn anything herem it's that when you set up a Google Search Ads campaign, you only want to set up a Google Search Ads campaign.
Let's drill into it.
This is a bit "how-to"-ish but at the very least review the TL;DR don't lose your shirt setting up a Google Search Ads campaign checklist.
When you go to ads.google.com and set up your account, you will be dumped into the default campaign setup. You want to avoid about 6 to 8 default settings to not burn through your spend unnecessarily.
The most important defaults to remove
When you create a "Search" campaign its because you want just Google's SERPS (search engine results pages). Or at least that is what you would expect to get when setting up Google Ads search ads. But you have to actively deselect the other options on the next step to only serve ads on Google search results.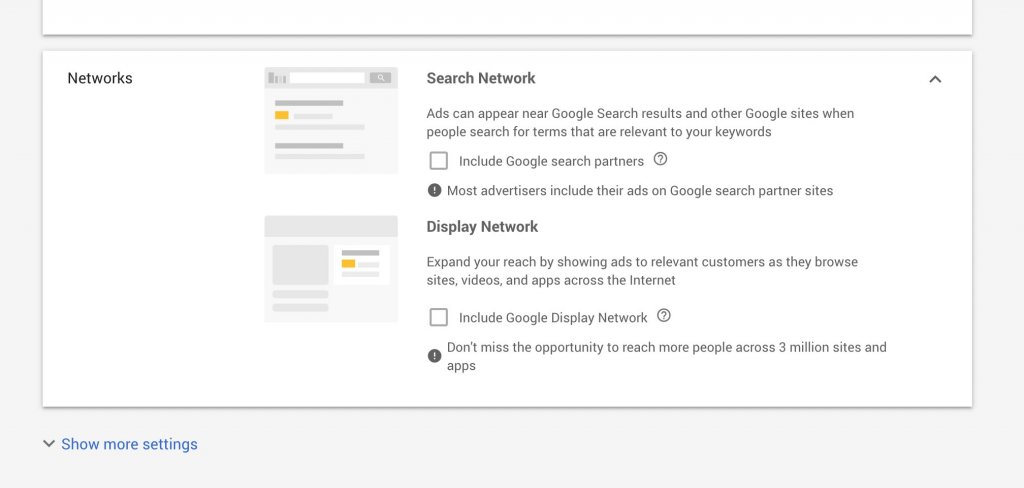 When you use "search network" or "display network" options, you open your campaign up to untold exposure on sites and apps you never knew existed.
The tighter your search targeting options are and the less likely you are to max out your capped spend, the more likely Google is to liberally spend your ad money elsewhere in these networks.
For mega budgets and designated ad optimization people, this is just part of the process. But if you're staying lean and flying solo this is a great way to burn a bunch of cash just to get your ads in front of your intended group.
Want to learn more about specifics here? Check out Search only vs With Search Network vs With Display Network. (To be posted Saturday, 6/22/2019)
Disney blogs and Scrabble apps
I was running a display campaign for a large senior tour bus company. They coordinate with senior centers to handle the logistics, bulk ticket purchases for shows, hotels, travel insurance, etc., and take a cut at every step.
Each tour bus booked equated to approx. $4k in profit for the owner.
The problem, though, was if they didn't fill enough seats (approx. 40) then the tour is cancelled. Even if they missed that number by 1 or 2 seats!
Maybe 20 to 30% of the time, they have to cancel tours. That means that if the company was doing about $2 million in profit a year, they were losing $500k+.
Well worth it to spend $1k on ads to find the extra 3 to 5 missing seats to make a tour happen, right?
So we set up display only campaign.
Boy was it tricky to find where seniors open to an adventure like seeing the Amish in Lancaster or a show in the Big Apple somewhat last minute.
When we turned the ads on we quickly found that Google was burning our spend serving ads on a disproportionately high number of:
travel blogs only about Disney World
apps like Words With Friends, a popular social Scrabble type app
Even with age targeting restrictions to seniors, Google was sending traffic to Disney blogs.
I'm sure with all the time and money in the world we could continuously refine away low quality and irrelevant sites but there are millions of sites in Google's display network and hundreds in its search network.
If you want to test your idea, stay away from both.