Last updated: June 7, 2018
Updated: March 4, 2018
Updated: November 19, 2017
Published: November 2, 2017
Unsplash is our top go to – decent tags so what you want is reasonably searchable as well as ability to log in and save your favorite shots in lists which automatically become available to all users. So not only is this content user generated by a lot of talented photographers, its also user organized which helps with search queries and finding what you want relatively quickly.
The only major con here is that a lot if not most of the photos are pretty artsy, lots of photo filters, and this becomes a challenge if you don't have the ability to edit color/lighting in something like Adobe Photoshop or Lightroom.
Pexels has a good mix of what you'll find on Unsplash (a lot of duplicate photos across these two sources) and some traditional looking stock photos. So in additional to more natural looking photos, think shutterstock or bigstock photos where a lot of them are really unnatural bright lighting, white backgrounds. Basically, what you normally think of when you think of stock photography.
Pro Tip: Pexels has stock video footage as well. You can take the highest resolution video and pull down screenshots from it for your stock photos (just a thought).
Pretty similar to Pexels above.
Pro(s):
Has similar photos listed under a given photo's page like paid stock photo sites do and its pretty good given their library size
Cons are
you have to log in for full resolution images, or go approx. 1920px width size
if you don't log in, you'll get a captcha every time you download a photo which can be annoying if you're downloading a lot quickly
lots of shutterstock thumbnails all around
Again, pretty similar to Pexels and Pixabay above, with approx. 2,000 photos in total and a tag cloud to browse (at the bottom of homepage). A lot of the photos have vintage, bleached type effects.
Con: Photo results are paginated (not infinite scroll) which slows you down quite a bit
Looks like about 4,000 photos here. Good if you have an ecommerce site in a common product vertical because there are photo galleries organized by types of ecommerce sites. Otherwise these photos are pretty similar to what's out there above.
Cons:
Paginated
Looks like a lot of duplicate photos grabbed from other places, not much unique content and says their photos are "public domain"
This is cool – aggregates photos from other sources like Unsplash with advanced search features. For example:
people –color #60a8d8 –source unsplash
Would return a series of photos with the keyword "people" from Unsplash with a specific hex-color of blue: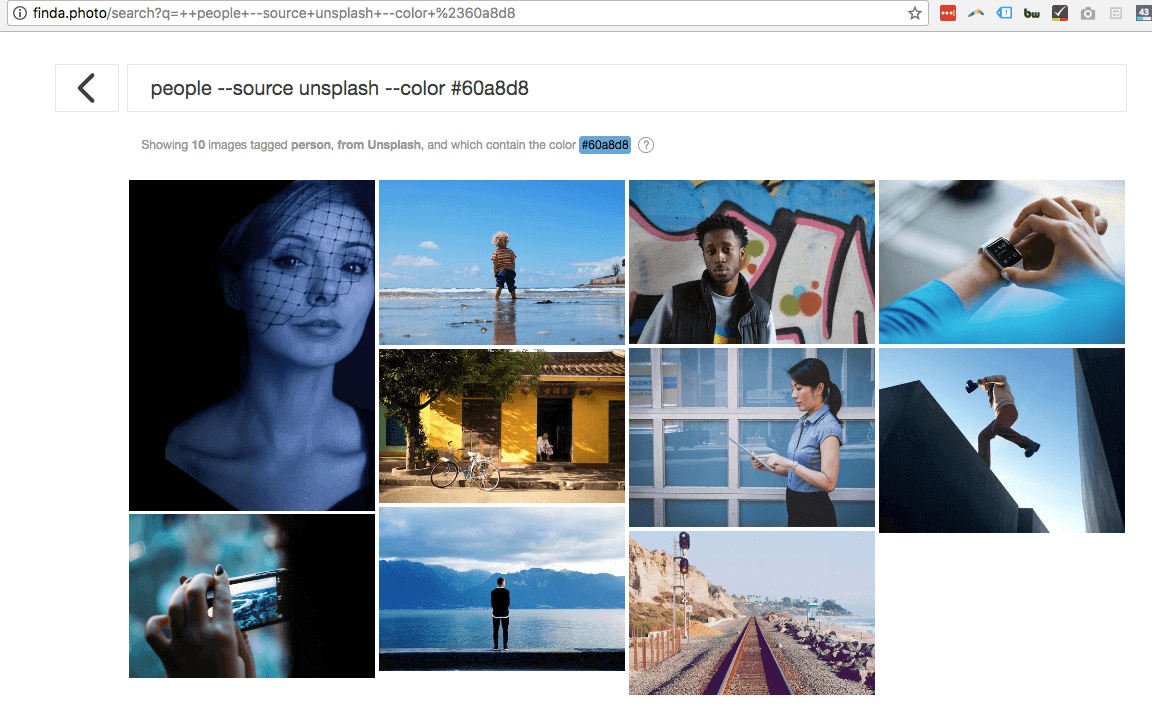 Here are a few others: