Are you helping people who want to "transform" in some way or solve a common problem?
Google Ads are good for common problems (we all got 'em)
Common problems will show significant search volume in Google Ads and your ads can be pretty on the nose, e.g. "Improve your website's speed." This is a product concept we're looking at launching right now.
Let's take a quick look at whether or not people care about improving their website speed in SEMRush Keyword Magic tool: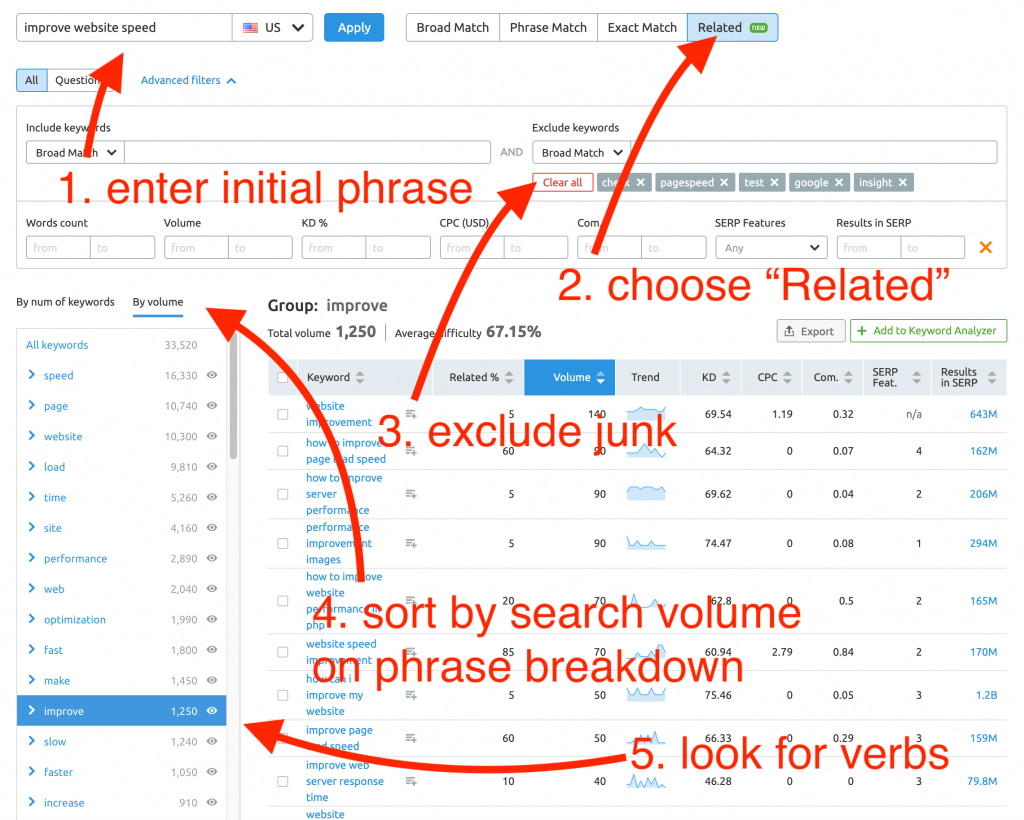 Very quickly we can see that there is probably about 5 to 8k Google US monthly searches for "improve, increase, faster, optimization" type queries related to "website speed." As an aside, I purposely excluded keywords around people looking for testing tools, which initially by far accounted for the most searches.
Let's pick the low end of 5k monthly searches and say our website speed product will cost $200, $600, and $1800 for done-for-you with a $500 average order value.
Can I make my product work with 0.1% share of that market? (5 sales a month x $500 = $2,500).
If so, it's worth testing to determine a cost per acquisition and model projections based on real sales data.
Facebook Ads are good for personal transformation aspiration
Aspirational products can resonate better on Facebook for a few reasons:
You have a bunch of psychosocial factors at play. This might sound a bit dark, but it's part of what was uncovered in my "your brain on Facebook" research:

For one, Facebook is an identity tool. Profiles, photos, brand "likes" are all measures and indicators of identity.
For two, there is a "social comparison" aspect where users on Facebook are primed to thinking about themselves in the context of their "friends."
For three, self comparison. This is more opinion than based on research, but I believe this also extends to comparing yourself to your past self. Think about all the time hop style, "look at your year in review," type campaigns Facebook runs.

You can cast a net around "tribes." your messaging can connect the dots between current pains and future pleasure, and you can imply transformation with stories, testimonials, images, etc.,
So what are you trying to achieve right now? Aspirational transformation or solving a common problem?
One will often be a better candidate for search and one will be better for social.
Pro tip: You're only validating an info product concept here. Even if your product is aspirational in nature, don't bite off more than you can chew or overpromise. If your concept is helping business owners "double their revenue" or consumers "lose 50 pounds by summer," then not only are you biting off more than you can chew, but your results will be skewed or inflated.