Content audits are traditionally in service of one dimension or heavily skewed toward it (typically search, information architecture, content marketing, user experience, conversion rate optimization).
Better personalized content audit processes I've seen from others will try to account for things like:
business goals
key stakeholders' perspectives
competitive landscape
content by authors, taxonomies, siloes, etc.,
All to get a sense of the current situation in a way to personalize an audit.
For experts with audiences, the trajectory is already pretty clear and audit focus should really be around these things:
Habits, content regimen, and related attitudes
Most people do content one way. It's more important to identify patterns of activity and whether the compound effects are positive, neutral, or negative.
Any findings or recommendations are likely going to have to be prioritized or altered based on constraints.
For experts the constraints on time and energy are pretty sever, so most meaningful recommendations would look like mitigating patterns of harm, encourage more of what's working well, and identifying when something isn't working great but has stuck for one reason or another.
Where the content bottlenecks are
We can look at bottlenecks from a few perspectives. Identifying gaps in content is a key source of recommendations.
"Funnel" position
Is most of your content top of funnel content? Versus middle or bottom of funnel content? What's the ratio of findable content on your site? If most of your content is in service to one thing, like getting search traffic or selling to a list you're going to end up with problems where your content is missing.
Traffic > Subscriptions > Sales
At the points of traffic, subscriptions, or sales, what are healthy numbers? What would you expect the numbers to look like?
For traffic, you should expect about two thirds of it to be coming from search.
For subscriptions, if your email opt-ins are below 2%, you have an offer, offer visibility, or content to offer inconsistency problem.
For sales, there are no good rules of thumb. Things get weird and you should mostly be concerned that your conversion rates on product launches aren't too high, a signal products aren't accessible enough or launches frequent enough.
User journeys
As you grow a body of work, the array of user journeys will grow with it. Are you really connecting the dots for them? Or are there big holes they're falling into?
The audit audit part
Most experts do a poor (if any) job of organizing their content. And it's hard. An master inventory spreadsheet should have tabs with annotations and key KPIs around performance (performance, topic, where in funnel, page value, etc.,)
key concepts / themes
articles, podcasts
taxonomies / topics
content assets (guides, tools, resource libraries)
products/services
offers/CTAs
Findings & Recommendations
Right now for me this looks like: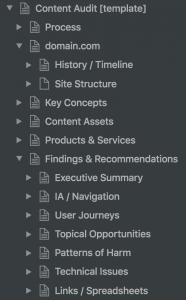 A work in progress but I'm doing it in Notion so I can export the template to .html and generate a server password protected static site, will share the link when I get to a decent v1