As mentioned, I'm doing some research on what digital marketing efforts are working for audience-first businesses (built on expert content), what's not, and how is that changing? You can read the really long version here, that's the /research page which I promise to keep updated.
Basically, I have no idea what I'm doing so I'm taking a multi-pronged approach: 3 question surveys, semi-structured 20 minute interviews, and building a graph database. The graph database is the sexy part.
Suffice it to say, there are so many moving parts, different approaches, networks, products, events, technologies used, that can indicate success or stall, that graph database is the tool for the job of collecting, modeling, and analyzing that data.
Here's my attempt to explain types of databases.
Here's an abbreviated example of how I'm mapping people and their relationships with sites, articles, podcasts, products like books, speaking engagements, etc., to paint a holistic picture of their audience-first business.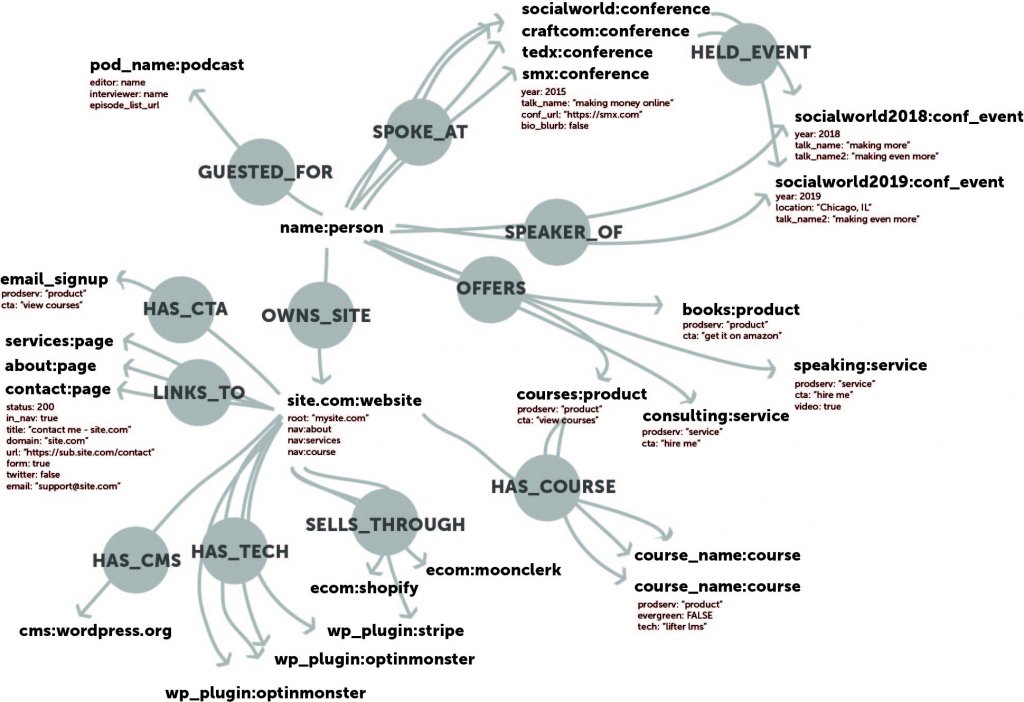 To some extent real life relationships are discoverable just by crawling the web. This is what Google does. It maps relationships between entities, assigns value to those relationships based on a host of factors, and then uses them to determine what sites should rank for queries around what topics.
As an example, I could maybe find a page with a list of 1,000 bestselling authors, determine which have audience-first businesses by crawling their sites and looking for indicators, like keywords "courses" or technologies used, like a course plugin.
Then I could gather the data of sites, products, relationships or anything else and see what bestselling authors have in common. Or I could develop thresholds for indications of success, like traffic, listed number of subscribers, how much they spend on technologies for their sites or ads, etc., and look for patterns and differences between the two groups.
That's the plan at least! More to come.